Ubiquinol
Widely used in other countries, you may have asked yourself – "Where can I buy Ubiquinol?" Well, we've got a great selection right here. Ubiquinol is an active form of CoQ10, a powerful antioxidant. In addition to supporting your body's production of energy, this strong antioxidant can protect your body from damage caused by free radicals.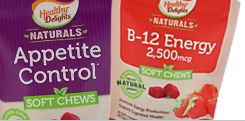 Save 10% on all
Healthy Delights Natural Chews
Ends Sunday, 5/29/16 at 11:59 p.m.
Shop Now