Preventing and Reversing Osteoporosis
Also indexed as:Bone Loss, Brittle Bone Disease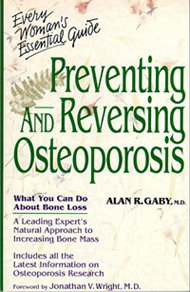 Preventing and Reversing Osteoporosis (Prima Lifestyles, 1994) by Alan R. Gaby, MD
The conventional approach to preventing bone loss focuses mainly on calcium supplements and estrogen therapy. Although these treatments are partly effective, more than one million American women suffer a fracture each year as a direct result of thinning bones. In addition, there are concerns that estrogen therapy, as it is commonly prescribed in the United States, can increase the risk of breast cancer, as well as causing other side effects.
Preventing and Reversing Osteoporosis presents a number of important new concepts:
that bone loss depends on many nutrients besides calcium, including magnesium, vitamin K, manganese, folic acid, vitamin B6, zinc, copper, strontium, silicon, and boron;
that there is an alternative approach to hormone replacement therapy--one that includes progesterone, DHEA, and more natural forms of estrogen--that appears to be safe and more effective than conventional hormone treatments;
that what you eat determines in part how strong your bones will be;
that a number of environmental pollutants are contributing to the modern epidemic of osteoporosis.
This book is a must read for any woman who is interested in maintaining strong bones into her later years.